Tips
Exotic places, adventure and the most beautiful beaches! The best islands in the Indian Ocean
We thought we could write an article about the most beautiful islands in the Indian Ocean. But we ran into a big problem – we couldn't choose the most beautiful. So we decided to collect information about several islands and put them together in one article. Be ready for an adventure called the Islands of the Indian Ocean.
Maldives – for diving lovers
Do you remember the first time you googled photos of Maldives? Maybe not, but we assume that you were skeptical and couldn't believe it must be a trick. 26 atolls and 1,192 micro-islands that rise only a few meters above sea level, sandy beaches like from a film, romantic sunsets, rich underwater world and an intense feeling of luxury.
For whom?
In the past, only those who were rich could afford a vacay in these islands. But that no longer applies. If you follow offers for this destination, you can visit this place at reasonable prices. You won't even be able to spend the night in a bungalow, but in a real hotel.
What can you experience here?
You can just relax and enjoy the carefree life. The most beautiful and extraordinary picture awaits you under the water. Ari Atoll is one of the best places to see sharks, but some recommend Addu Atoll as well.
What is the most beautiful beach?
Each hotel has its own private beach and each is nice for something different. The most recommended beaches are Kuredu, Sonevat, Fushi, Rihiveli, but Vilu Reef is also a good choice. White sand and azure blue sea await you everywhere.
What is the best time to travel?
The rainy season runs from May to November, but that doesn't mean it always rains all days. During this time, however, you book the hotel and flight tickets at lower prices. Even snorkeling can be more interesting during this time.
Where to stay?
For example, Equator Villige is a good choice. It's a clean, nice hotel with its own beach and is ideal for divers.
Réunion – high dose of adrenaline
Technically, it's an overseas region of France. In reality, this area looks like a tropical island. With its massive waterfalls, volcanoes and miles of coastline, the plot of films like Jurrasic Park or King Kong could take place here. We shouldn't forget to mention the volcanic crater Cirque de Mafate, whose deep gorges and large peaks will simply enchant you.
What to experience?
You can go through all the popular tourist trails. The most exciting experience is probably the five-hour "walk" to the Piton de la Fournaise volcanic peak. We also recommend a scenic flight over the island or a cruise on the Cirque du Cilalos river.
What is the most beautiful beach?
Réunion is a tropical paradise that offers the best of lying around on the beach in its western part – La Saline les Bains.
What is the best time to travel?
Réunion is a all year round destination. It is recommended to avoid school holidays and cyclone season.
Where to stay?
We like Senteur Vanille's holiday houses. However, the selection is big and there are many luxury hotels available to you.
Andamans – distant paradise with swimming elephants
The Andaman and Nicobar Islands are still inhabited by the original population. The Nicobar Islands are inaccessible to tourists, but the Andamans are waiting for travelers with open arms.
For whom?
If you love diving and long for an unusual vacation or if you like elephants, the Andamans are made for you.
What to experience?
Port Blair offers many historical sights, e.g. the Cellular Jail or the smaller version of Angkor Wat on Ross Island. An unforgettable experience awaits you on the island of Havelock.
What is the most beautiful beach?
Randhanagar. It is located on the island of Havelock and is approximately one kilometer long.
What is the best time to travel?
If you want to visit the islands for diving, the best time to travel is between December and April. The monsoon season begins in May and lasts until autumn.
Where to stay?
If you like romantic atmosphere, Sea Shell Havelock with its wooden houses is the right thing for you.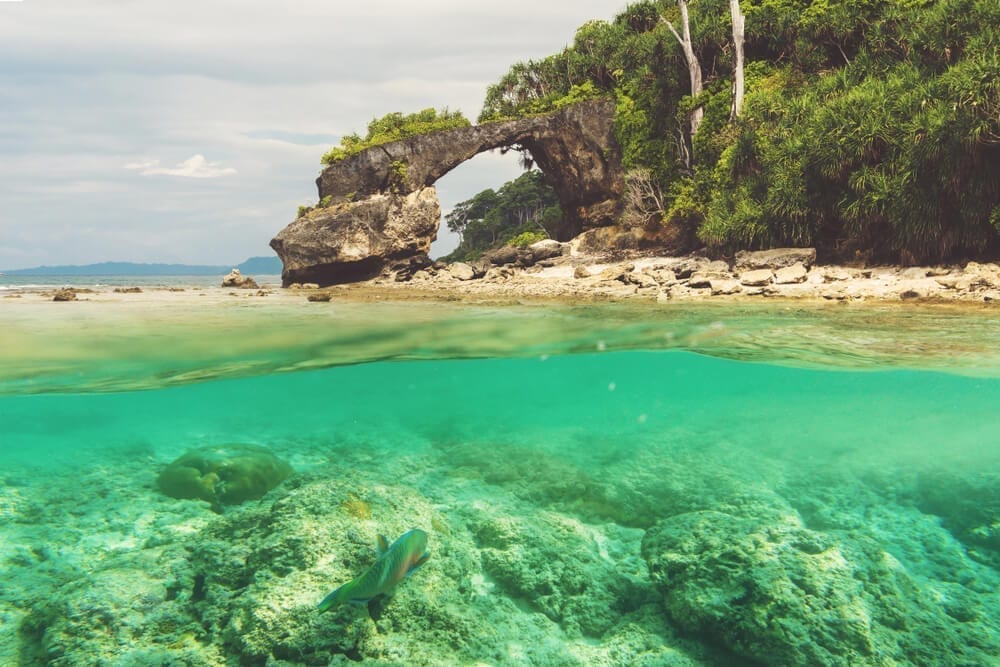 Sri Lanka – trains and temples
The most popular island in the Indian Ocean, where beautiful beaches with high peaks and quiet temples meet. Amazing train routes, national parks with elephants and crocodiles – this is Sri Lanka too.
For whom?
The island is ideal for solo travelers or those who are curious about something else except beaches. It would be a big mistake not to see the beauties of the island, but you have to leave your deck chair on the beach.
What to experience?
The city of Galle boasts of its Dutch colonial monuments. You should visit Elle because of the rails between the tea plants, it's a very special view.
What is the most beautiful beach?
In the western part of the island is Marakolliya, where you can recharge your batteries under huge palm trees.
What is the best time to travel?
Between April and January you will probably have an undisturbed vacation. The probability of rain during this time is minimal – whether on the west or south coast.
Where to stay?
The absolute winner in this category is Jetwing Yala. Private beach, beautiful panorama, swimming pool and those rooms … beautiful.
Seychelles – calm coast with wild jungle
As if you were on a Hollywood-style honeymoon, Seychelles is just that. It can seem so, but on the perfect coast you will find huge turtles, coconut trees and wild jungle. Many of the small islands are uninhabited, but if you can, take a boat trip to visit them.
For whom?
For everyone. While it may seem like you are traveling to the Seychelles for luxury only, it is not quite so. Budget hotels, especially in Praslin, Mahe and La Digue become more popular.
What to experience?
Of course, magical beaches, where you have to laze around for several hours. Then drive to the Morne National Park, which is located in Mahé. For unique coconuts, visit the Vallee de Mai Reserve on Praslin Island.
What is the most beautiful beach?
Anyone, but if we have to prefer one: Grand Anse on the island of La Digue.
What is the best time to travel?
The Seychelles are typical trade winds. Between October and April the humid and warm air flows from the northwest and from May to October the cold and dry wind from the southwest. It can rain all year round, but only in the form of brief showers. The average temperature is 28-30 ° C.
Where to stay?
The holiday houses Chalets d´Anse Forbans in Mahé will certainly not ruin you financially.
Comores – only for brave tourists
There are few people who can show where the Comoros is on a map. But even fewer are those who would visit these 3 islands in the Mozambique Channel without hesitation. If you are one of them, you can look forward to the local culture, local life, aromatic spices and stories from local fishermen.
For whom?
For adventurers. The infrastructure is not entirely problem-free. Don't forget that alcohol is forbidden here. But the mix of cultures, heritage of Arab traders, Malaysian immigrants and African tribes – you won't experience that anywhere else.
What to experience?
The capital Moroni is on the island of Ngazidja. The old town, the noisy markets and the crowded beaches are definitely worth a visit.
What is the most beautiful beach?
Good enough that our communication channel is typing. It would be pretty fun to pronounce the name of Nioumachoua beach. The beach is on Mwali Island, where you can see dolphins and whales right from the beach.
What is the best time to travel?
The driest time is between May and October.
Where to stay?
The most recommended apartments are Laka Lodge on Mwali Island. The view from the terrace is breathtaking and the sea is a minute's walk away.
Mauritius – for gastronomy and art lovers
According to Mark Twain, the sky is just a copy of Mauritius. It's a serotonin bomb in the form of sun rays, great beaches and refreshing cocktails … and that's not all.
For whom?
For those who want luxury and for those who don't want luxury. There are many luxury hotels in Mauritius, but also apartments where dinner is prepared by the owners – first-hand local cuisine.
What to experience?
Take a gastronomic tour in Grand Baei. Try ourite safrane (octopus with turmeric and ginger) or boulettes (Chinese balls). You can discover the natural beauty in the Black River Gorges National Park and the history in the Château Labourdonnais.
What is the most beautiful beach?
Although the Ile aux Cerfs is a long and beautiful beach, it is not overcrowded.
What is the best time to travel?
We do not recommend January and February as this is cyclone season.
Where to stay?
La Maison d´Eté is the perfect accommodation for couples with beautiful sea views from the rooms.
Zanzibar – Hakuna Matata
Zanzibar has excellent beaches that are up to kilometers long. The dazzling white sand that is as fine as flour and the azure blue sea – pure perfection.
For whom?
If you want to combine exotic destination and history (Africa, slavery), then for you.
What to experience?
Colonial monuments in the capital, Stone Town, tropical paradise, hidden bays, national parks … For many years Zanzibar has been a center of the slave trade. If you want to learn more about this dark past, a visit to the Slave Market is a must.
What is the most beautiful beach?
Pongwe is a beautiful bay with huge palm trees and white sand, but Zanzibar has a variety of beaches of similar quality.
What is the best time to travel?
It rains most from March to May and from November to December.
Where to stay?
Jambiani is not overcrowded with tourists and there is also the beautiful The Loop Beach Resort.
Madagascar – Lemur Island!
A trip to Madagascar is not easy to organize. But if you have a flair for planning, the result is worth it. Rainforests, deserts, high mountains, coral reefs – all in one place.
For whom?
Clearly for nature lovers. Here you have the opportunity to see animals that don't live anywhere else in the world.
What to experience?
Andasibe-Mantadia is the ideal place to see lemurs.
What is the most beautiful beach?
Ile aux Nattes will not disappoint you.
What is the best time to travel?
In October to see the orchids blooming.
Where to stay?
If you don't necessarily need luxury accommodation, we recommend the Natiora Green Lodge apartments.
Photo source: Shutterstock, Dreamstime, Unsplash.com